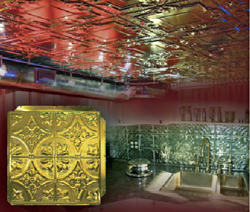 Call
Fax: (941) 359-8776
Toll Free: (888) 231-7500
Write
The American Tin Ceiling Co.
1825 60th Place East
Bradenton, FL 34203
United States of America
Welcome to The American Tin Ceiling Co.
We are located in Bradenton, FL United States of America. American Tin Ceiling makes tin ceiling panels and accessories manufacturing authentic tin plated steel embossed tin ceiling panels and molding. Used for tin ceilings, kitchen backsplash, wainscoating, and dropin tin ceilings.
A good place to start is our selection of
brands
. We carry Ceilings, and more...
CONTACT:
The American Tin Ceiling Co. Bradenton, FL
Fax:
(941) 359-8776
Toll Free:
(888) 231-7500
Fax:
(941) 359-8776
Toll Free:
(888) 231-7500